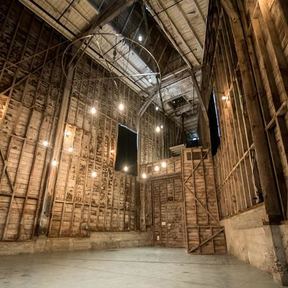 Mack Sennett Studios is 20,000 sq ft and can be broken up into multiple spaces ideal for events, shoots and anything you can imagine. Can be paired with other spaces within studio for events or shoots.
STAGE 1
5000 sq ft and features large elephant door and ramp for loading gear, cars etc.
52'w x 48'l x 23'h cyclorama, Soundproofed, Full catwalk, 11 adjustable light rails available
Bates & cam-lok connections available
Use of all three greenrooms
Stage 2
2,000 square feet with a 35' ceiling
25'w x 30'l x 25'h cyclorama, Exposed brick wall.
Wooden backdrop paint frame28' x 50' paint frame
Stationary speed rails
Woodshop
900 sq ft
Dramatic 30 foot ceilings with vintage redwood walls
Great for photo shoots & art shows
Can be combined with Stage 1
1200 amps of power throughout the building.
Capacity: 500 People
Amenities & Features
Wifi
Lighting
5 Bathrooms: 1 womens, 1 mens, 2 unisex. 1 Private
Wheelchair accessible
Alcohol Permitted
Parking
Air Conditioning
Wedding Allowed
Open Late (past 11 p.m.)
Kitchens
Cleaning Fee: $200 for shoots over 3 days
No followed people